John Woodson - Sarah Winston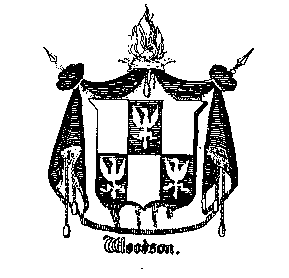 In April 1606 King James 1st issued Letters Patent to a few English noblemen giving them land on the Atlantic Coast, resulting in the formation of the two companies the Plymouth and London. The same year the London Company sent three vessels with one hundred and five immigrants to America, and in May 1609 they secured a new charter for land two hundred miles north and south of Point Comfort and from coast to coast. That year their ships brought over five hundred immigrants. History records the various difficulties in forming the new world, but in 1618 Governor Dale returned to England and was succeeded by Sir George Yeardley. In January 1619 the ship "George Yeardley" sailed from England and reached Jamestown, Virginia, April 10, 1619 after a three months voyage. With the new Governor came a hundred passengers, among them Doctor John Woodson of Devonshire, and his wife Sarah (nee Winston) from Dorcestershire, England.
John Woodson was a fifth son, had a patrimony suited to his station in life, and his people were of the Church of England in faith. But John fell in love with a little Quakeress Sarah Winston, and rather than make her give up her religion or distress her people, he forfeited his own inheritance as a Baron and married Sarah. When Governor Yeardley offered him a flattering gift of land holdings in the new world, he accepted the task of ship's surgeon and physician, and came on with the new Governor.
There is well authenticated tradition that enrouted by sea, Lady Yeardley suffered greatly from that malady known as "sickness of the stomach" or "sea sickness" and Sarah, in her kindness of heart, was a faithful attendant on the Governor's wife, which cemented a friendship never broken.
After reaching Virginia under the guidance of Governor Yeardley eleven Boroughs were formed, allowing two representatives each, and assembled they formed the House of Burgesses, and with the Governor and Council the General Assembly was convened at Jamestown July 1619, the first legislative body to function in Virginia. Of this body Doctor John Woodson, a member, is listed in the Colonial Dame Register of Virginia as one of the Historical Founders of the Colony of Virginia.
John Woodson, Physician and Surgeon, was born in England in 1586, and matriculated at St. John's College March 1, 1604, age eighteen. Later he was a graduate of Oxford, and when he arrived in Virginia is noted as a man of high character and of great value in the Colony. In 1620 he purchased several negro servants at Jamestown and in 1623 had them registered as part of his property. Governor Yeardley as per his promise gave him land in Fleur de Hundred, then in Henrico County, later Prince George.
For quite a while the Indians seemed to be quiet, then came the massacre in 1644, when Dr. Woodson was killed in his own yard. Her two sons later stated that Sarah Woodson and a school master by the name of Ligon defended the house as best they could. Nine of the Indians were killed, two tried to enter through the kitchen chimney, but Sarah scalded one and brained the other with a hot spit. It is sorrowful to think that a man of such usefulness, particularly at that period of the colony, should have been killed by the Indians. After that Sarah used her knowledge and skill in medicine and nursing to help the sick and to comfort the sorrowful in her community. They had two sons, John and Robert.

Robert Woodson - Elizabeth Ferris
Robert Woodson, son of John and Sarah (Winston) Woodson, was born in Henrico County, Virginia 1634, and died post 1707. He married in 1656 Elizabeth, the daughter of Richard Ferris, who descended from a Norman family, Henri de Gascon of Leicestershire, England. Under date of October 21, 1687 Robert Woodson, Richard Ferris, William Ferris and others had a grant of land covering 1637 acres, while John and Robert Woodson personally owned 531 acres.
Robert lived at Curls, and none of the earlier generation of descendants held prominent offices in the Colony, but served on grand juries, were constables and surveyors. But they were substantial and self respecting citizens of the community, listed as planters owning land and by patent and purchase ran their holdings up to several hundred acres. In these capacities of service they were compelled to have had some education.
Robert and Elizabeth had five sons and four daughters: John, Robert Jr., Richard, Joseph and Benjamin; Elizabeth, Sarah, Mary and Judith.
In 1707 Robert Woodson made a deed giving land to two of his grandsons, William and Joseph Lewis. This was possibly the last instrument that Robert Woodson signed as he died soon after that in his seventy-fourth year of age.
The Woodson brothers were not limited in land holdings, for Robert and John had 531 acres in 1681 and in 1688 their holdings had increased to 1887 acres and in connection with Robert Ferris and William Porter, Robert Woodson had nearly two thousand acres. Much of this was disposed of, however, as the children grew to maturity and married and scattered to various parts of Virginia and other states as well.